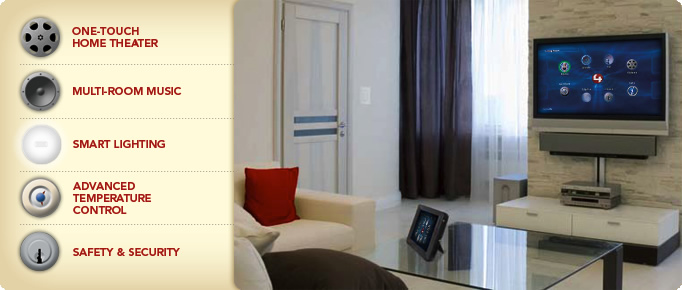 Control4 Home Controller HC-200


The affordable Control4 Home Controller HC-200 adds intelligent one-room, home theater, or small-system control to any home. The compact design of the HC-200 makes it easy to mount in any rack or behind any TV. This controller will connect to your existing TV to provide you with On-Screen navigation of your home control.



Control4 My Home for iPad / iPhone / iTouch


Use your iPad as an interface to your Control4 system to create custom lighting scenes; to conveniently control entertainment systems; or to take advantage of energy savings with programmable thermostats and other 'green' settings. If you've already experienced mobile control using your iPhone or iPod Touch, you'll be even more impressed by the iPad app which is specially designed to take advantage of the larger screen size making it even easier to manage your home. A separate app is also available for the iPhone and the iTouch. Allows control of your home from any remote location.



Control4 System Remote Control SR-150


Designed for use with Control4's On-Screen Navigation, the SR-150 puts the power of total home control in your hand. Providing customization and control programming never before possible in a handheld device, this combination of flexibility and power creates a new remote that further simplifies the homeowners experience, liberating them from their cluttered and confusing collection of remotes.



Control4 Wireless Dimmer


The Control4 Wireless Dimmer enables easy energy management and advanced lighting control for a variety of lighting and load types. Ideal for managing light levels beyond the on/off switch.




Control4 Wireless Thermostat


The Control4 Wireless Thermostat adds intelligent temperature control to your home. Enjoy a heating and cooling schedule personalized to your lifestyle that can be activated by a single touch. Conserve energy by adjusting the HVAC automatically to respond to the outside temperature, season or time of day. Add convenience by controlling the temperature from any Control4 User Interface whether you're in the next room or the next state.



Card Access Wireless Motion Sensor


The Wireless Motion Sensor adds even more intelligent home automation to trigger and control events throughout the Control4 system based on object motion, occupancy and room ambient lighting levels. Automatically control room lighting, pathway lighting, exterior lighting, HVAC and audio/video applications either inside or outside the home.



Control4 4Sight Internet Services


A subscription to 4Sight gives you the ability to securely monitor and control your home from any internet connection in the world. It also includes event-based email alerts for anything that happens in your home, such as the garage door being left open or the lights being left on during the day. With a subscription to 4Sight, you'll always be in touch with your home, and your home will always be in touch with you. Requires Internet access.






Please contact us to setup a free consultation to automate your home today.